'Balitang America' reporter Jared Bray talks about his Balangiga bells coverage
MNP caught up with the 33-year-old Kapamilya journalist to talk about his recent coup.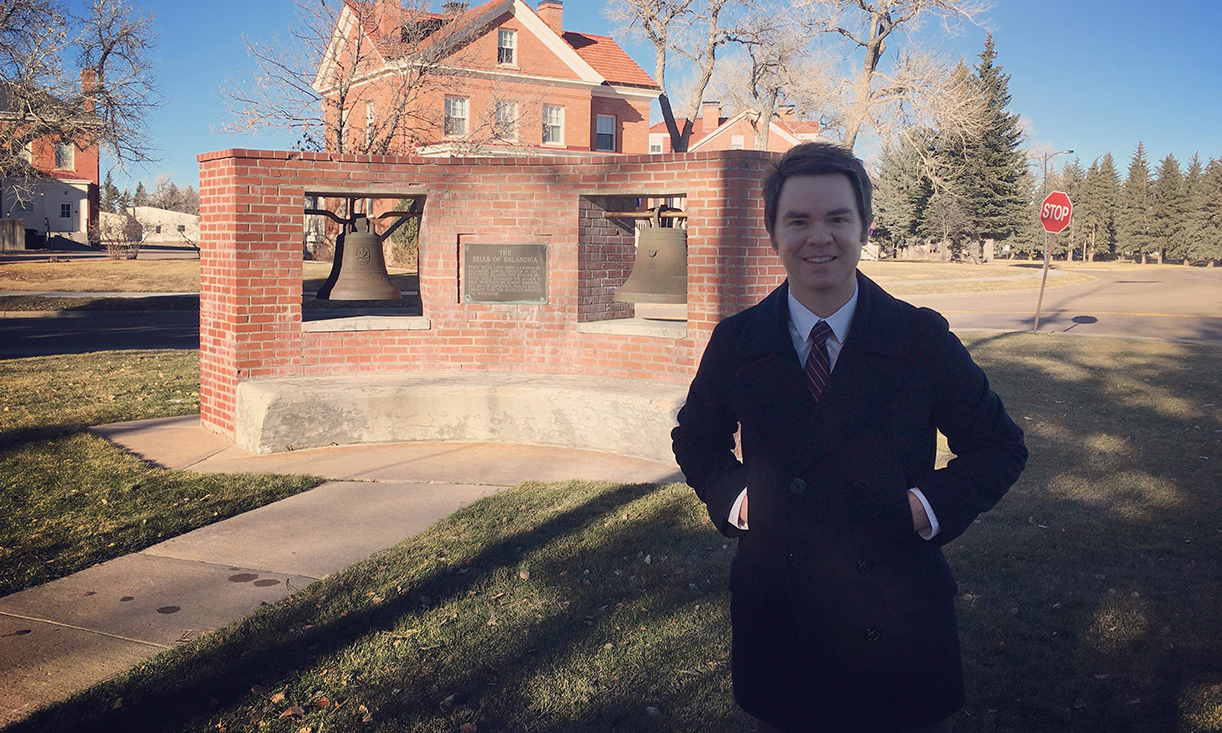 After more than a century, the historic church bells of Balangiga in Eastern Samar were finally brought back home last week, ending what was considered to be one of the darkest chapters in Philippine history.
Among the first local news outlets to cover the story was ABS-CBN News, which through its Balitang America reporter Jared Bray scored exclusives on the centuries-old bells.
Last month, the BA reporter landed a rare access to the F.E. Warren Air Force Base during the send-off ceremony for the bells. This in addition to securing an interview with Philippine Ambassador to the United States Jose Manuel Romualdez. Bray documented all of these through his reporting on various Kapamilya platforms including ABS-CBN through its morning show Umagang Kay Ganda, ANC through Early Edition, and DZMM TeleRadyo.
"When I found out that I'd be covering the send-off ceremony for the Balangiga bells, bumilis ang tibok ng puso ko. As a journalist, you dream of scoring an exclusive like that," Bray shared in an interview with Media Newser Philippines.
We recently caught up with the 33-year-old American journalist to talk about his recent coup. An edited transcript of our conversation appears below.
Media Newser Philippines: Hi, Jared. So how did you prepare for this story?
Jared Bray: When I found out that I'd be covering the send-off ceremony for the Balangiga bells, bumilis ang tibok ng puso ko. As a journalist, you dream of scoring an exclusive like that. The only problem was that I received the assignment less than 24 hours before the ceremony would begin, so there wasn't much time to prepare. Our desk editors, Henni Espinosa and Miranda de Quiros, helped me. We made a plan, a list of deliverables. Then, while traveling to F.E. Warren Air Force Base near Cheyenne, Wyoming, I reviewed my research about the bells and anticipated how the day might unfold. Given the story's historical significance, emotional resonance, and diplomatic implications, I wanted to be as prepared as possible.
MNP: Walk us through the process of securing this exclusive.
JB: It was a difficult story to secure. I'd tried to visit the base twice before — once in August 2017 and again a year later — but its public affairs team declined both requests. Even the day before the ceremony, wala pa akong clearance para makapasok. The plan was to have me wait outside and interview Ambassador Romualdez before or after the event. Fortunately, Warren's public affairs chief contacted me Tuesday evening, granting me access to the bells and ceremony. That, of course, changed everything.
The base's location also made this a challenging assignment to pull off. Rural kasi ang lugar na 'yon, and it wasn't possible to fly directly to Cheyenne in time for the ceremony. Instead, I had to catch an early flight from Salt Lake City, Utah, to Denver, Colorado, then drive an hour and a half to the base.
Later that evening, once I'd finished filing my report, I made the same three-state trek in reverse: Wyoming to Colorado, Colorado to Utah. Umalis ako ng bahay ng 6AM at umuwi ako ng hatinggabi. It was a long day yet fast-paced and exciting all at the same time.
MNP: Tell us more about the Balangiga bells. Ano ang natutunan mo sa kasaysayan nito habang ginagawa mo ang research mo?
JB: Interesado ako sa kasaysayan ng mga Pilipino at ng Pilipinas. Heneral Luna, the Bataan Death March, Martial Law and People Power. I'm captivated by it all. That being the case, it was fascinating to study the "Bells of Balangiga." I knew about the Philippine–American War but wasn't familiar with this particular part of it. I began researching the bronze bells about a year and a half ago and quickly learned the basics: how at least one of them was used by Filipino revolutionaries in 1901 to signal an ambush against American troops, how all three were taken by U.S. soldiers as part of a vicious act of retaliation.
I also read about the bells' recent history, including Fidel V. Ramos's 1994 request for their return. In doing so, natuto ako kung gaano ka-complex ang story na ito. I found in it so many layers — history, human interest, international relations. Learning all of this made seeing the bells — their raised inscriptions, their small scars from battles with time and weather — all the more remarkable.
MNP: Why do you think Filipinos should know about the backstory of the bells? Why are they so important?
JB: To know the backstory helps you gain a greater appreciation for this latest chapter in the bells' long and complicated narrative. It helps you understand that the bells represent different ideas for different people. For some, they stand for fallen heroes and patriots. For others, resistance and bravery.
For a long time, the bells served as grim reminders of one of the darkest episodes in Philippine and U.S. history. But now that the countries have worked together to bring them back to Balangiga, to the town church where this all began, they've become symbols of peace, respect, and friendship. A reminder of how the Philippines and United States have gone from adversaries in war to close allies.
MNP: Now tell us about your experience following and covering this story. And how was it like reporting in Filipino for DZMM TeleRadyo and Umagang Kay Ganda?
JB: Grabe, it was an action-packed day. In the span of just a few hours, I interviewed Ambassador Romualdez, captured video and photos of him meeting with U.S. Secretary of Defense James Mattis in front of the bells, filmed and Facebook Lived the ceremony, and broke the news on Umagang Kay Ganda, ANC's Early Edition, and DZMM. Though I was alone at the base, there was a team of producers and editors helping behind the scenes back in Manila, at nagpapasalamat ako sa tulong nila. With their help, I was able to do four live reports — two in English, two in Tagalog — in addition to a package covering the day's events.
Reporting for UKG and DZMM was one of the best moments of the day. I feel like my Tagalog is pretty solid, and I have a lot of experience with live reporting from my time at NBC's KULR-8, but to do those two things at the same time — naku, what a challenge! Kapag live ka sa ibang wika, with breaking news pa, mahirap 'yan. You have to synthesize the information you just obtained and translate your reporting at the same time. My favorite report may have been the one with Alvin Elchico and Johnson Manabat on DZMM. During our Q&A, medyo na-nosebleed ako sa Tagalog ng isang tanong, parang ambilis kasi e, pero ang saya naman.
I'm my biggest critic, so when I finally had a chance to watch those reports, I immediately recognized how I could've translated a sentence/phrase/word in a better way. But considering the quick turnaround, I think the reports turned out to be informative and enjoyable, and I'm proud of what we were able to accomplish. Throughout that day, pine-Facebook ako ng mga viewers, people I'd never before met. They sent kind messages about watching and listening to my reports. Sobrang na-appreciate ko 'yon. Their support means a lot to me.
Proseso ng pagsasauli sa bansa ng Balangiga bells, nagsimula na. Mga kampana, inaasahang darating sa Disyembre | ulat mula kay @JaredBray pic.twitter.com/12nVFgnzM7

— DZMM TeleRadyo (@DZMMTeleRadyo) November 15, 2018

MNP: If given a chance, what stories do you want to do next?
JB: I'd love to experiment with digital storytelling. Do something similar to what Jeff Canoy did with his long-form piece Buhay pa kami: Dispatches from Marawi. Nabighani ako sa pambihirang reporting niya doon. In addition, TFC's director of photography, Jeremiah Ysip, and I have also talked about collaborating on a documentary for TFC and Balitang America. We're not yet sure what our focus would be, but I've worked with Jeremiah in the past, and we make a solid team. Sa tingin ko we could create something special.
In the meantime, I'm excited to continue covering Utah's Filipino community. One of the best parts of this job is meeting Filipinos who are dedicated to and passionate about what they do and giving them a chance to be heard and seen by our Kapamilya audience across the globe. They possess unique, never-been-told-before stories. Narratives of resilience, hope, and triumph. Last year, for example, I got to report about Susie Rose, a 76-year-old powerlifting lola. Ang galing niya. Even with the odds stacked against her, she achieved her goals and broke world records for her age group. Nakaka-inspire 'yan.