GMA-7 tops MNP's 2019 midterm elections coverage poll; ABS-CBN News Channel close second
Of the choices we presented to our readers, GMA-7's 'Eleksyon 2019' coverage ranked as the top choice with 28.38%.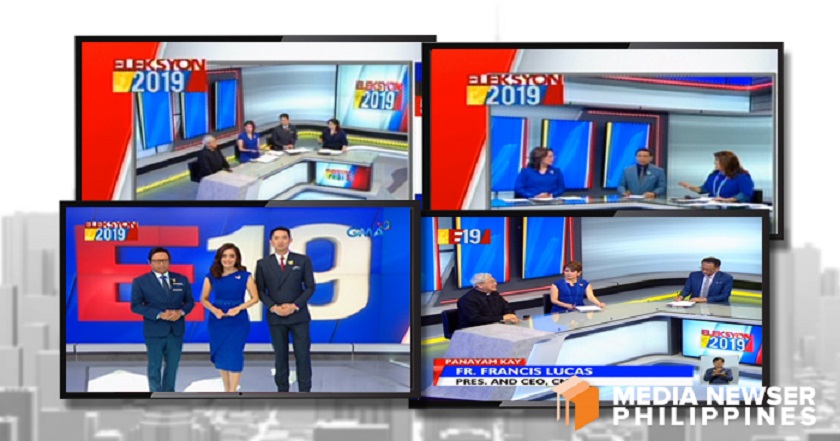 Aiming to be the preferred choice of most Filipino viewers, our local television networks pulled out all the stops at their respective election coverage on May 13th and 14th.
Of the choices we presented to you, our readers, for our MNP Poll, GMA-7's Eleksyon 2019 coverage ranked as the top choice with 28.38%.
Most of you commended the Kapuso Network's impressive set design and its use of state-of-the-art technology — which included the use of augmented reality — mixed with its brand of reporting.
Additionally, the powerhouse anchor team of GMA News also got major kudos from our readers.
"GMA's coverage stood out from the rest. Malinis ang segments, pinaghandaan. Lahat ng anchors magagaling at powerhouse sila noong pinagsama-sama," wrote a certain Eljohn CY. "Si Jessica, Mel, Mike, Howie, Vicky, Arnold, Rhea, Ivan Mayrina, Connie Sison, lahat sila talagang bigay-todo sa coverage."
"In fairness to GMA, maganda ang flow ng coverage. Magaling din anchors nila. Powerhouse MNP, from Jessica to Mel to Vicky, Rhea, Pia and Connie, sobrang gagaling. Pinaghandaan. Hindi sila napahiya," wrote another commenter.
Ranking close second in our poll with 24.54% is ANC, which had a separate Halalan 2019 coverage from its mothership, ABS-CBN Channel 2. (DZMM TeleRadyo also mounted its own coverage, making ABS-CBN the lone Philippine broadcast network to produce individual, separate coverage for three of its news assets.)
As many of our readers pointed out, the Kapamilya news channel's 36-hour uninterrupted coverage had the best lineup of election-related segments — all headlined by its all-star news team.
"I thought ANC had the best segments. it looked beyond just the political aspect of the election, but also, more importantly, how it's going to affect the economic stability of the country. Cathy Yang's reporting was superb and the Dissecting Data segment by Warren De Guzman was really helpful. If ABS can replicate that for TV Patrol viewers, we'd have more informed Filipinos. Paging Ging Reyes," wrote a certain Sonny Ramirez.
Another one, Chen de Asis, also offered her praises, writing: "Definitely ANC. The lineup was quite solid, content including the interviews was top-notch as well. And the anchors? Superb. They did their homework. In particular I like David Celdran and Karmina Constantino talking about 2022 and also Cathy Yang and Christian Esguerra digging deep into the outcome. Lynda Jumilla also had a superb hour as well. Congrats! Same cannot be said to the coverage of ABS-CBN 2."
Third in our poll, meanwhile, is the newest kid on the block, One PH, which had a joint 28-hour broadcast with TV5. Scoring a share of 17.72%, the channel was lauded for its "strong" coverage, which was headlined by Ed Lingao, Luchi Cruz-Valdes, Cheryl Cosim, Atty. Mel Sta. Maria, Lourd De Veyra, Maricel Halili and Roices Naguit, among others.
As per one of our readers, "I thought Atty. Mel Sta. Maria and Cheryl had the strongest hour. Ed's was strong too. The discussions were all neat and insightful, even if they lack budget to come up with decent set and graphics. But that's okay because at the end of the day, content is more important."
Another, by the name Ishvi Maruyana, also wrote: "TV5 has its moments especially during this hour with Cheryl Cosim and Atty. Mel, but some of their guest analysts have questionable reputation."
Also above in our poll, with 14.74%, is One PH's sister station One News, which had a separate, all-English coverage led by Roby Alampay, Cito Beldran, Jove Francisco, Danie Laurel, Charles Lejano, Chiqui Vergel, Jester Delos Santos, Jamie Herell, Shawn Yao, Riza Diaz and Tony Abad.
"One News really did it for me. Kudos to the entire team of anchors for delivering really a solid coverage of the elections," wrote a certain Skikyna. "It would've been better though if Shawn Yao had minimal participation but at least we got more of Danie Laurel, Cito Beltran, Jove Francisco and Roby Alampay. I will also start watching Chiqui Vergel. She is promising."
A certain Janine also added, "With Jove, talagang halata na matanda na siya sa industry at gamay na gamay na. Yung interview niya kay Jess Falcis at Bruce Rivera talagang educational. Kahit pa parehong fans ang dalawa e well behaved sila kay Jove."
One of our loyal readers, Jeff Tan, also praised Agenda anchor Cito Beltran for how he handled the network's coverage, and also called BusinessWorld Live Danie Laurel a "revelation."
"Cito Beltran is the man. I think he deserves some kudos for anchoring his shift with an ease. Danie Laurel is also good at what she does. She is a revelation to me. The only thing I like less about One News was their guest. The marketing lady was so biased. You can tell she is a fan of the current admin. Nothing is wrong with that but at least disclose it," he wrote. "Overall One News really killed this coverage and I hope tomorrow will be better."
Rounding out our MNP Poll were CNN Philippines, which scored 10.06%, and ABS-CBN which had a dismal 4.36%. Among the criticisms leveled at both networks were its presentation and lineup of anchors and political analysts.
In particular, our readers criticized the local CNN station's selection of Malou Tiquia as one of the lead analysts of its primetime coverage. One of them wrote, "CNN Philippines's coverage was subpar this election season. Even One News's was better. The idea of adding a propagandist rather than an analyst was a mistake. Whoever thought of adding Ms. Tiquia was misinformed."
Another, by the name Rolanda Ng III, added: "What happened to CNNPH? They literally lacked. From the depth, set design (hinalatang Chroma eh) all the way to the credibility of their chosen analyst. Gosh, what is wrong with them right now? That is why I did not stick my eyes unto them, and instead, focused more on GMA 7 (with their great studio and anchor lineup), and 5 (One News included)."
As for ABS-CBN, our readers said its coverage was lacking in terms of substance, and also questioned the selection of Kabayan Noli De Castro, Ted Failon and Anthony Taberna as its lead anchors. Some were also wondering why Umagang Kay Ganda host Amy Perez had been handpicked to anchor a very important broadcast.
"ABS-CBN's coverage was lacking in terms of substance. Plus you have questionable personalities anchoring the coverage. Kabayan, Ted, Taberna — sort of like a reunion among Duterte apologists. Then they also had Amy Perez. Just a reminder ABS, Amy Perez is NOT a news person. Do not package her as one. We will not buy it. Keep her in the lifestyle beat or better yet let go of her. She belongs to Its Showtime NOT in any news program," wrote a certain Jozy.
Another one wrote, "I think the worst coverage goes to ABS-CBN. The male anchors are horrendous, not credible. Reporters lang ang nagdala, si Zen at Alvin."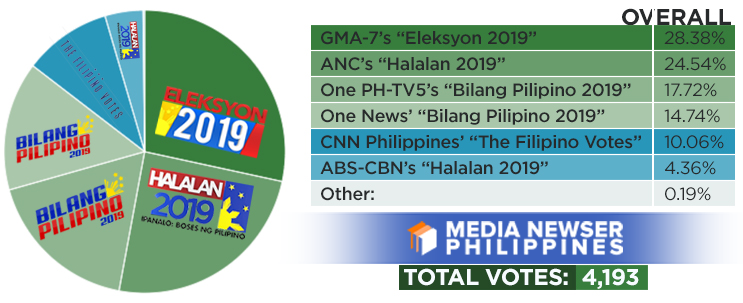 As for the "other" network options, a few of our readers selected DZMM TeleRadyo, PTV4 and UNTV.
This MNP Poll ran from the morning of May 13 to the evening of May 14 and accumulated a total of 4,193 votes. Feel free to discuss the results below or on our Facebook page. You can also tweet us @medianewserph.