MNP Q&A: Yong Chavez, Hollywood Correspondent for ABS-CBN News
Media Newser Philippines profiles Philippine TV's go-to entertainment reporter.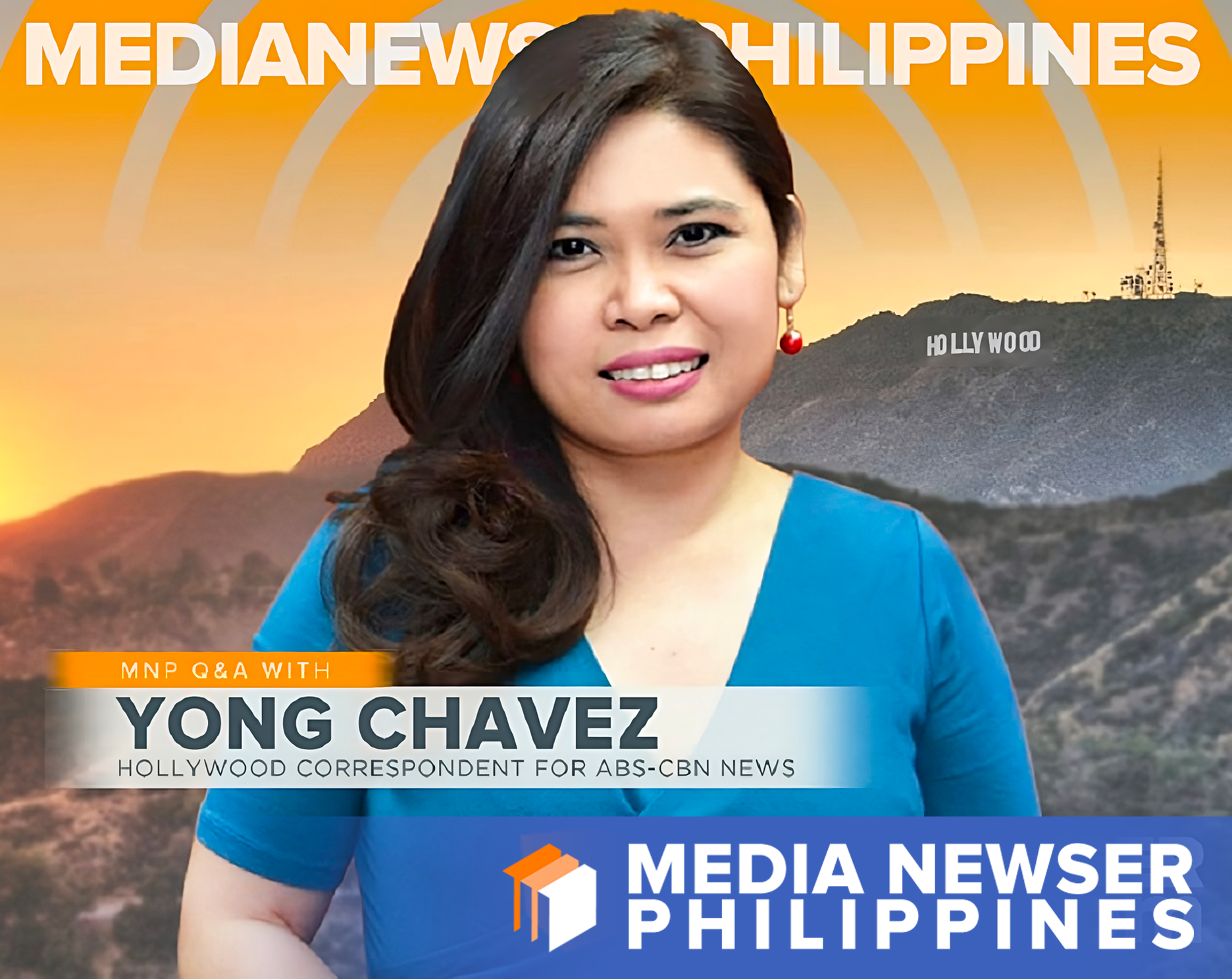 Yong Chavez was working her way up as a freelance reporter for the Filipino-American newspaper Philippine News when Ging Reyes, then the North America bureau chief of ABS-CBN, offered her a chance to become part of the venerable Balitang America.
That opportunity was a fulfillment of a childhood dream for Yong, who grew up idolizing broadcaster Tina Monzon-Palma. "I loved watching her newscasts, how confident and intelligent she was, and still is. From her I learned early one the importance of substance. Flash and packaging can fade but what you contribute to the conversation is what lasts," she said.
Yong and her siblings grew up in a small town in Batangas and was raised by a single mom, Gloria, whom she said "did her best to raise us by herself" during a difficult time in their lives.
"It was a difficult, hand-to-mouth existence for the most part. We really struggled. But many years of my life was spent in this small town in Batangas where there was a wild garden at the back so I learned to subsist on meals consisting of talbos ng kamote and tinola without chicken. The only problem was rice so a lot of times I had to go and ask the neighborhood store if we can have rice on credit. I guess that's when I developed a thick skin — kapal ng mukha. There are things you just need to do," Yong recounted.
A natural storyteller and a gifted writer, Yong took up Communication Arts at the University of Santo Tomas, where she would meet her husband. They would later work together at Jollibee, with Yong as a cashier and eventually as store manager, and her husband as part of its management team.
In 1996, Yong and her family decided to move overseas after Jollibee opened its first branch in Guam. As soon as she got her green card, Yong looked for a job opening at Pacific Daily News, a sister newspaper of USA Today. At first she worked as a marketing assistant and eventually was given a chance to become a features reporter.
After 4 years, Yong and her family moved to Los Angeles where she worked at various jobs — selling breads at Disneyland, travel agent, store manager at Red Ribbon Bakeshop in Hollywood — before working for Philippine News.
Soon after, she was named news correspondent for The Filipino Channel's Balitang America, joining the powerhouse team of Ging Reyes, Gel Santos-Relos, Steve Angeles and Don Tagala. Initially covering general assignments, Yong would later find her niche in entertainment journalism.
In 2013, Yong made history as the first Filipino TV reporter to cover the Academy Awards live from the red carpet. That didn't stop there as she has also been a regular on major Hollywood events such as The Golden Globe Awards, The Screen Actors Guild Awards, and The Primetime Emmys, where she has been the only Filipina TV reporter allowed to do red carpet reports for Philippine TV for the last 7 years.
Nung bata pa wala kaming TV, nakikinood sa kapitbahay ng Oscars. Today I covered it. 1stPinayTVreporter #nevergiveup pic.twitter.com/gfpPl90tXG

— Yong Chavez (@YongChavezLA) February 25, 2013
For this very special edition of MNP Q&A, we profile Philippine TV's go-to entertainment reporter. Here, she talks about her humble beginnings, her history-making career in the U.S., and her hopes for the future. Be sure to join the conversation below or on our Facebook page. You can also tweet us @medianewserphil.
Name: Yong Chavez
Occupation: Entertainment journalist
Education: Communication Arts, University of Santo Tomas
Guiding Principle: "Nothing's too hard to achieve if you have to the faith to believe in it and courage to fight for it."
Media Idols: Tina Monzon-Palma, Ging Reyes, Nadia Trinidad, Conrado de Quiros, Ann Curry, Katie Couric, Diane Sawyer, Pete Souza
News Sources: ABS-CBN News (of course), Pro Publica, New York Times, LA Times, Washington Post, Variety, The Hollywood Reporter
Twitter Handle: @yongchavezLA
Instagram (my preferred medium): @yongchavez
Let's make an introduction for this email interview. Who is Yong Chavez on- and off-camera? 
I have a simple life, personally, but I have a fun job. My work might not be ordinary, but to my family and friends, I'm just the person who loves them, and who they can count on to be there for them. For instance, I'm writing this on my flight home from Berlin, I was there just for the weekend to interview Charlize Theron for the movie Atomic Blonde. I couldn't stay longer than two days even if it's super-tiring to cram the travel and interview in 48 hours. It's because I have another full-time, non-reporting job I need to get back to on Monday, and I have plenty of chores waiting. I need to wash my used work clothes as I haven't done that in weeks as I've been traveling so much. The laundry pile keeps getting bigger.
But you know what gets me very excited after every big Hollywood interview trip abroad? Seeing my family and eating the sinigang na baboy that my husband cooks for me every time I come home. Even if I arrive home at 11PM, I will still eat that sinigang. I recently went to Paris for another interview and the night I arrived back home, I had an interview the day after with Harry Styles for Dunkirk, so no matter what, this much I'm sure of: I'm probably the only reporter who's ever eaten sinigang with a side of patis a few hours before I spoke with with the One Direction superstar.
Talk to us about your early childhood and background. 
Anak ako sa labas and I grew up with my sister and mom, and later on our oldest brother. My mom had to give him up when he was young to escape her first husband, but maybe that's a story for another day.
My dad was a wealthy, attractive man who was kind and sweet but a super-playboy. He was already married when he courted my mom. I have more than a dozen (I think) half-siblings. I say all these matter-of-factly now but growing up, it was so painful having to hear that word "bastarda" over and over. And I grew up in the province when I was the only one without married parents. I know it's very different now in the Philippines where couples separating is prevalent and not a big deal anymore, but back then it was very rare. People gossiped about my family all the time. It was tough. In the town market, whenever I see them, I had to hide whenever I see my dad's official family. They looked so happy and rich and fabulous. Meanwhile, my mom struggled to provide shelter, food, and clothing for us. It got so bad that my brother had to fudge his age so he can work in Saudi to help support us.
What were some of the challenges back then and how did you deal with them?
My mom did her best to raise us by herself, and money-wise, it was a difficult, hand-to-mouth existence for the most part. We really struggled. But many years of my life was spent in this small town in Batangas where there was a wild garden at the back so I learned to subsist on meals consisting of talbos ng kamote and tinola without chicken. The only problem was rice so a lot of times I had to go and ask the neighborhood store if we can have rice on credit. I guess that's when I developed a thick skin — kapal ng mukha. There are things you just need to do.
How do you think your humble beginnings helped you achieve so much success in your life and career? 
It definitely made me work harder. Every inch I got came from painstaking labor and years and years of work. It made me have empathy and compassion for others because I knew how it is to suffer, how it feels to be hungry, how to feel desperate with no one to turn to but yourself.
But it also gave me the capacity to feel true joy. When you've experienced the worst, everything else is gravy so I'm very appreciative of every single good thing in my life. There's that line in Hamilton (the Broadway musical) that always hits me hard: "Look at where we are, look at where we started."
My humble beginnings also made me realistic — but not pessimistic. I can look at a tough situation squarely and not lose hope. I know that the light at the end of the tunnel exists.
Even back then you knew you wanted to work in television news. What made you want to be part of this industry?
I mentioned this, too, in that Inquirer interview I did with Pam Pastor. It was because I idolized Tina Monzon Palma. I loved watching her newscasts, how confident and intelligent she was, and still is. From her I learned early one the importance of substance. Flash and packaging can fade but what you contribute to the conversation is what lasts.
But at the time, that desire to be on TV felt like a pipe dream. I remember when I was already living in Guam, I was watching the Oscars and sighing on my pillow, impossibly wishing to be there. It was unthinkable at the time.
Tell us about your experience working for publications such as Pacific Daily News and Philippine News.
As soon as I got my green card, I applied at Pacific Daily News, Guam's number one newspaper owned by Gannett which also publishes USA Today. I have always been brave when it comes to things like that. I know some people are paralyzed by fear of rejection, but that's something that I didn't have. I guess I learned growing up poor that there are way, way worse things than rejection. One of them is not trying and losing a chance just because you didn't take a shot.
At PDN, I started as a marketing assistant and worked for a horrible, horrible boss but through that job, I met the newsroom editors who ended up giving me a chance to write for the paper. I started as a freelance features reporter and then they hired me full-time shortly after.
When we moved to L.A., I didn't know how I can continue in news because I didn't know the place yet, I didn't have any contact. So I had a succession of jobs: at Disneyland selling breads, a travel agent, and then as store manager at Red Ribbon Bakeshop in Hollywood. When I became familiar with SoCal living, that's when I contributed to Philippine News as a freelance general assignments reporter. The pay was really low, sometimes abonado pa ako but at the time, there were very few people covering the Filipino community regularly. Kung meron man, they focused on advertorials. Covering hard news and in-depth features require manpower and time and the Filipino newspapers didn't allot enough budget for it. So it was disheartening to see some reporters also selling ads for their outlets. To me, you can't be called a journalist if you sell ads. That was something I vowed never to do. That's why I always had a separate full-time job. It is tiring having two jobs but I won't have it any other way.
In that Inquirer interview, you credited Ging Reyes for jump-starting your career in television news. Tell us about that moment when she offered you the opportunity to join Balitang America. How did it change your life?
At the time I didn't know how it would change my life, but I met Ging at a vigil for Sharon Santos, a Fil-Am Warner Bros. employee who went missing and then found tragically slain. That story haunts me to this day. I wrote a series of articles for Philippine News about it and got some exclusives. Ging noticed it and shortly after I met her, she offered me the chance to contribute for Balitang America. I covered general assignments, originally. She is my fairy godmother talaga. All she cared about was if I can deliver, and so I never took that opportunity lightly. I work hard at every story. To this day, whenever I do some high-profile thing, at the back of my mind I always think: I hope I made Ging proud.
And then there are many others from ABS-CBN who have helped me tremendously. It was Nadia Trinidad who gave me the regular showbiz segment on Balitang America. I remember I was ngarag na ngarag from covering Jessica Sanchez's American Idol run and I just out of the blue I asked Nadia na sana may segment ako sa Balitang America. And then she made it happen, with the support, of course, of The Filipino Channel management and our executive producer then, Vivian Araullo. My newsdesk handler then, Cherry Cornell, mentored me, too, and then it became Miranda de Quiros who has been helping me significantly in that she trusts my judgment and she fights for my stories. She helps me so that my interviews are given good and timely space. As you can see, I was shaped and pushed up by very strong and smart women. I owe them so much so I always do my best in my work. What that entails is being an asset to the team. Being reliable. I'm a low maintenance, independent reporter but I relish being part of the team, too. I love my colleagues and the Balitang America team, Troy Espera and Henni Espinosa really support my efforts.
Not a lot of viewers know this but you're working for ABS-CBN in a freelance capacity. Why do you prefer that setup? Do you see yourself becoming a full-time Kapamilya?
Vivian used to tease me that I'm the only person who ever said no to ABS. Haha! But I had a good reason for saying no. At the time they offered a full-time position, my daughter was still in elementary school. I knew being full-time would mean dropping things when breaking news happen. I had no one to leave my daughter with, and at the time we were living in the suburbs, very far from L.A. where most of the news happen. I knew I couldn't be a responsible mom and be a reliable, productive reporter at the same time. But even as freelancer, I still try to contribute as if I'm full-time Kapamilya. I don't take the title "Kapamilya" lightly. To me that's a badge of honor and a responsibility. One time I saw someone using it lightly and hashtagging the hell out of it, and my buddy Steve Angeles and I spent a good amount of time ranting and laughing about it. Haha! TFC and ABS people have always welcomed me, and I love them. They are some of my biggest supporters, like Nerissa Fernandez (head of ABS-CBN Global Corporate Affairs and PR) and several others.
More than a decade later, here you are as Philippine TV's one and only Hollywood correspondent — a first of its kind. Do you ever get used to people calling you with that title?
It's mind-boggling, isn't it? Here I am, a normal-looking, regular woman having that title. You know, the first few times I did high-profile celebrity interviews and Hollywood red carpet reports, I got a couple of tweets saying I don't deserve to be doing it because I'm ugly. Siyempre kahit paano, masakit. But I responded this way: "I'm sorry you feel that way, but what did you think of the interview/story?" Thankfully, I could count the number of times it happened. My stories are high-profile but ako mismo, I try to keep a low profile. I'm finishing this the night before the Primetime Emmys where I'm the only Filipina TV reporter allowed to do red carpet reports for Philippine TV for the last 7 years, and I only think of the responsibility to do a good job and I never think about the fact that it was some sort of history for our country.
All in all, I just hope to be an inspiration to others who look like me to see that there is a place for all kinds of talents on TV. You don't have to be a beauty queen, you don't have to come from the best or rich or connected family to work on TV. You do have to be the hardest working person in the room though. It's an up-at-dawn kind of gig that you have to be ready for. You have to meet every opportunity with preparation. You have to be tough. You have to learn from your mistakes. You have to be kind to others and to yourself.
View this post on Instagram
Why do you think Filipinos are so fascinated with celebrities?
It's an escape, I think. I was a hardcore celebrity fan, too. You know, on times when we have some spare money growing up, I used it to buy showbiz magazines like Jingle Extra Hot and Teen World. I was obsessed with Gabby Concepcion and Sharon Cuneta and Martin Nievera and Pops Fernandez. I knew the names of even the supporting talents of every movie. I watched That's Entertainment religiously, that's why it's crazy for me now that I ended up being friends with some of the celebs like G Tongi, Patricia Javier, Bunny Paras, Geneva Cruz. Even Martin sang for me on my last birthday, which to be honest was legit kilig. So yeah, I fully understand the fans of Harry Styles and Dylan O'Brien and other celebs I interview.
What obstacles did you have to overcome as an Asian (Filipino) reporter in covering all these big Hollywood events mostly dominated by American entertainment journalists and big news organizations?
There is crab mentality with a few other Pinoys in the business. That's the toughest to swallow, but you learn to adjust. There is also racism, and you get used to be being low-priority because you are part of international press without affiliation. ABS-CBN is THE media company in the Philippines, but before I started cultivating our Hollywood beat, nobody knew what it was. It was very tough in the beginning, it is still tough sometimes, but I've created a productive network of contacts who have helped us with access and coverages. I have a group of Fil-Am friends in the industry, too, who have been so helpful. I am very grateful that people in the Hollywood community are now familiar with my work.
What's the key to building good relationships with movie studios? How were you able to develop one for ABS-CBN/TFC?
I make sure I do a good story that airs. I do research on each interview, craft my questions ahead of time, and I make sure that I am as professional as any other mainstream reporter. No embarrassing, personal, culturally-insensitive questions, and no selfies on junkets. I don't just represent our company, as being usually the only Fiipina reporter allowed to do one-on-ones, I also represent our country.
Do you still get nervous talking to these big Hollywood stars?
Yes, but I am good at compartmentalizing. Here's what I figured out early on that has helped me tremendously: Whatever happens in that interview room is up to me. They can be the most successful, most talented, but I have to set the pace in the room. I ask the questions. For 4-5 minutes, no matter who they are, I have that power and responsibility.
You have been honored a number of times for your journalistic work — Excellence in Entertainment Journalism at the 2nd Annual Beautiful Life, 100 Most Influential Filipina Women in the U.S. — how important are these recognitions for you?
I have an unpopular answer: I'm not fond of awards. Haha! Sorry, but I did say yes to a few, but after that I say no na if I can. Don't get me wrong: I'm very, very appreciative that they think of me, but sometimes I look at the same names in the awardees list and think: there are so many other people more deserving than me and us and they never get recognized because they are so low-profile and they don't advertise their work.
How has digital media (social networking sites, YouTube) helped you in your reporting?
It's a double-edged sword kasi it helps you immediately collect information for research on your subjects but maintaining a social media presence requires additional work for reporters. But I enjoy interacting with the fans of the stars. I love their passion because I'm a fan, too. And I love writing about my experiences behind-the-scenes. To me it's an outlet for writing.
View this post on Instagram
Waiting for my flight to the Philippines to see my mom for the last time. This is the hardest thing I've ever had to do. Going a bit insane with grief, to be honest. But I'm nothing if not my mother's daughter: I will, I will, I will be strong. Like her.
What are some of the most valuable lessons you've learned from your mom that you would like to share to our readers?
I learned from my mom to never lose hope. I miss her everyday. Sometimes it hits me that she's gone and I just wanna curl in bed for days and cry. But she taught me by example how to be professional and to always, always show up for work.
Juggling two jobs and being a wife and a mother, what for you is the key to a work-life balance?
My key to my work-life balance is, honestly, having a husband who supports me in everything I do, who loves me unconditionally. I'm a staunch feminist but I'm not ashamed to say I lean heavily on him, and vice versa. He's my number one cheerleader, cameraman, chauffeur, boyfriend. It also helps that he has a very stable job in a prosperous U.S. company so I'm able to take risks in mine. We have a lot of fun covering together, also with our daughter, who is also my rock. She's like my own mom sometimes when she gets into my health.
When I'm impossibly busy (like going on a last-minute trip to Berlin for the weekend), making lists help me. I even write on my left hand sometimes just so I won't forget. My phone is full of reminders. And although I say yes to many opportunities, I don't usually say yes to non-work parties and social events. I have a very small circle of close friends that I go out with.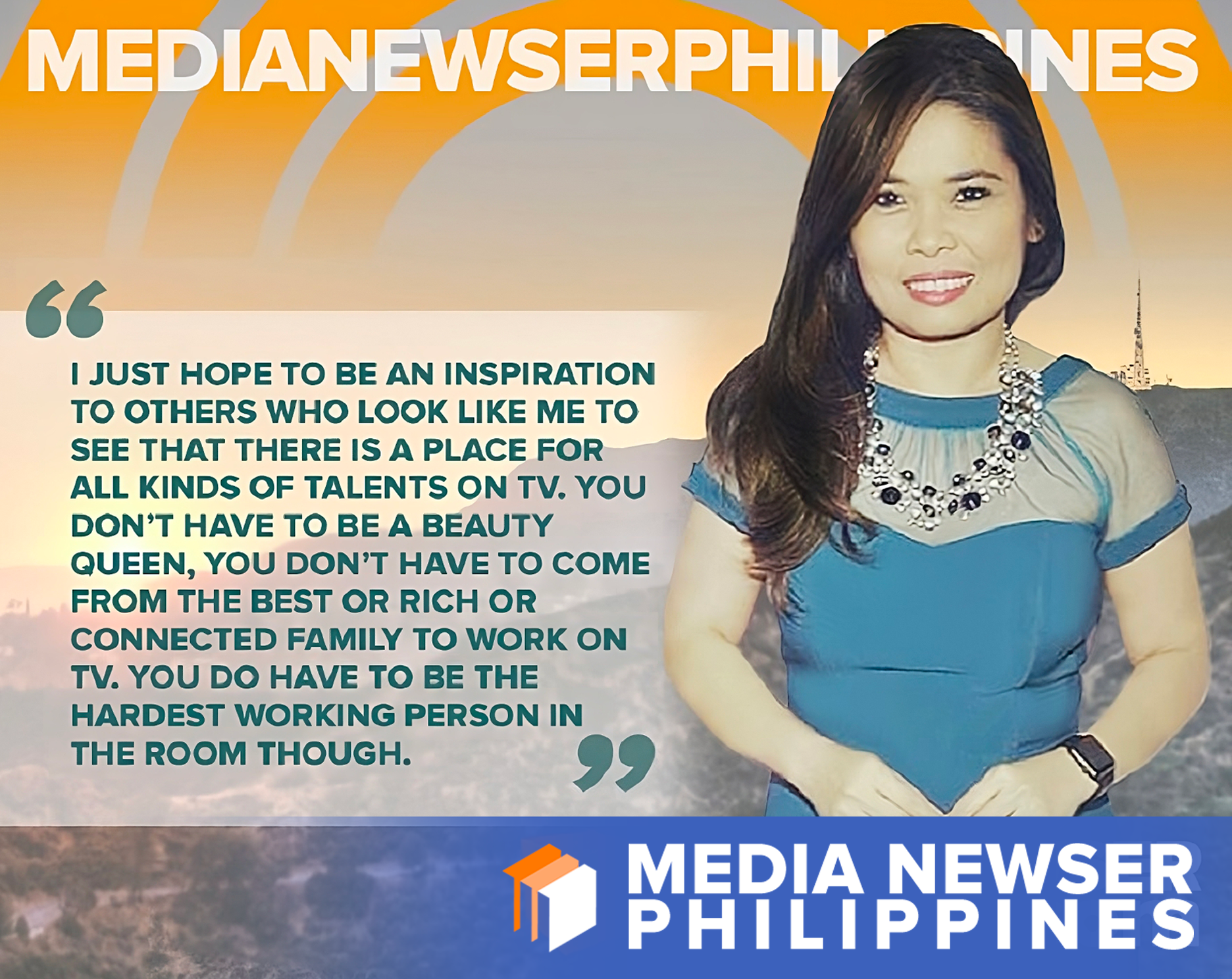 There surely is more to Yong Chavez than the reporter we see on TV. What do our readers and your viewers should know more about you?
That I have a strong faith in God — but I'm not religious. That I believe in being a good person to other people and to myself. That I have started including the Philippines and America in my prayers ever since the new presidents took over. That love Eminem and Adele songs equally. That I've met Hollywood A-listers but Aga Muhlach remains as one of my favorite actors because he's so good and I hope that he does more movies. That my karaoke song is 'Sana'y Maghintay Ang Walang Hanggan." That one of my happiest days was being hired at Jollibee as a cashier because it meant I won't starve anymore and I can continue in college. That it makes me a bit shy but incredibly giddy whenever ABS-CBN and TFC viewers come up to me and say that they watch my reports.
At this point in your television career, what are you most looking forward to do next? If given a chance, would you like to host a program or a TV special of your own?
I want longevity. Miranda de Quiros said something brilliant one time when were discussing some colleagues who left the news to be celebrities: News is forever. Ang ibang career sa TV, lilipas yan after a while. But news is always there.
I don't know if I have the wherewithal to host my own program but maybe I can try in the future. What I really want to do is be a showrunner and write a show like Aziz Ansari's Master of None or Mindy Kaling's The Mindy Project. And I want to write a memoir and a sexy fiction novel.