Karen Davila featured in Monocle magazine's media issue
The international publication called Davila the "voice of the people," highlighting her important role in this Duterte-fied news cycle.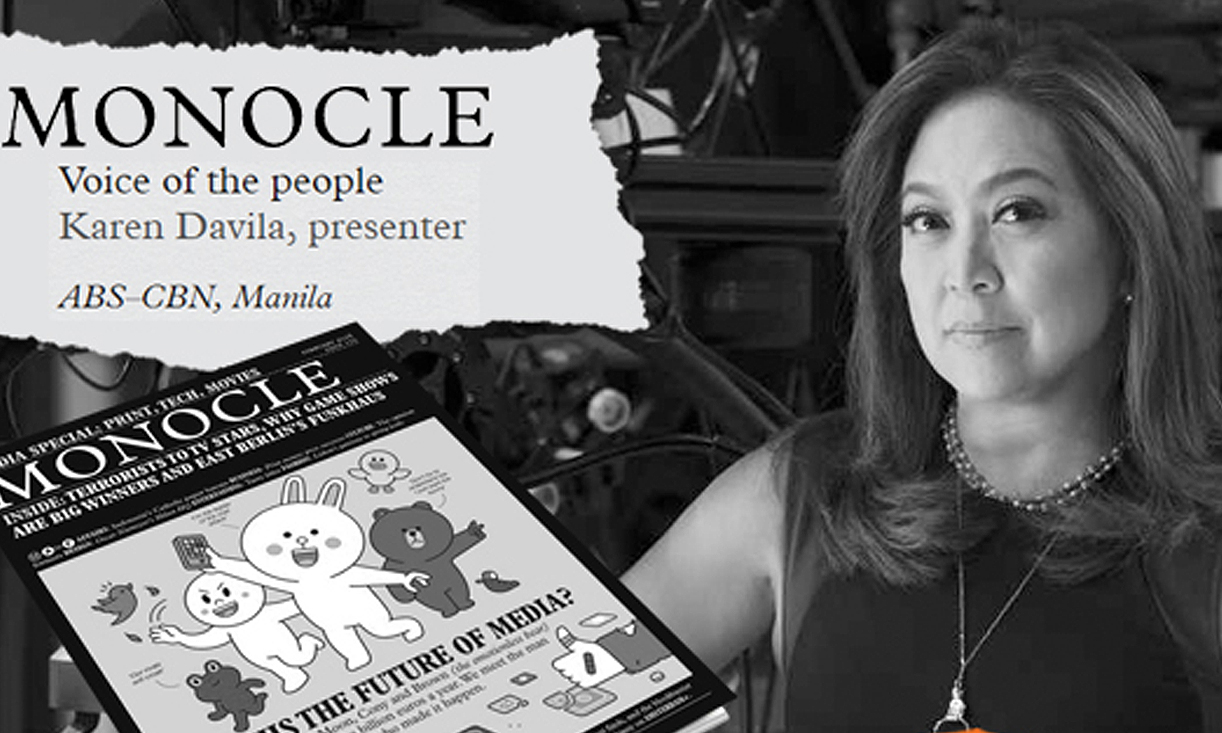 Monocle magazine, a publication in the U.K., recently featured eight global media personalities "who are shaping the news agenda," and among them is ABS-CBN News anchor Karen Davila.
Much like in our 2017 yearender, the international publication also called Davila the "voice of the people," highlighting her important role in this Duterte-fied news cycle, whether that be through her TV programs on ABS-CBN and ANC, or radio broadcasts on DZMM.
Excerpts:
"She sees her role as helping Filipinos develop a better understanding of the news, an elevated calling since president Rodrigo Duterte's 2016 election win. Davila chaired one of the debates and asked Duterte if his support for the death penalty for drug users applies to his own family. She also attacked the Senate for not calling the president's son to its hearing on the controversial drug war, despite his name being mentioned by a key witness, an oversight that politicians later reversed.
"Is she scared of Duterte? No. But the same may not be true the other way around. He has avoided a one-on-one interview and threatened to let the network's license lapse when it comes up for renewal. 'It's downright wrong and threatens freedom of the press,' says Davila. 'Duterte's put much more on the line for us.'"
In a post on her Instagram account, the award-winning journalist thanked Monocle for including her in the lineup, which also included Iñaki Gabilondo, a commentator for El País in Spain; Martin Krasnik, editor-in-chief of Denmark's Weekendavisen; and news presenter Lilli Gruber of La 7 in Italy.
"THANK YOU #MONOCLEMagazine for making me part of your #February #MediaIssue 📺 Truly grateful to be part of this amazing group of #OpinionFormers from all over the world 🎥 And thank you #JamesChambers, i dont know if I deserve all youve written 🤣 Thank you for appreciating our work at #ANCHeadstart & commentaries on #DZMM," Davila wrote.
Other global media players who are included in the list are Soichiro Tahara, a TV presenter in Japan; Naphalai Areesorn, editor-in-chief of Thailand Tatler; Nick Findlay, a music director for Triple J, a radio station in Australia; and Gregório Duvivier, a news presenter for Greg News of Rio de Janeiro, Brazil.