Watch: Al Jazeera host Mehdi Hasan grills DFA Secretary Alan Peter Cayetano
The secretary of Foreign Affairs appeared on 'UpFront' to talk about the Duterte administration's bloody drug campaign.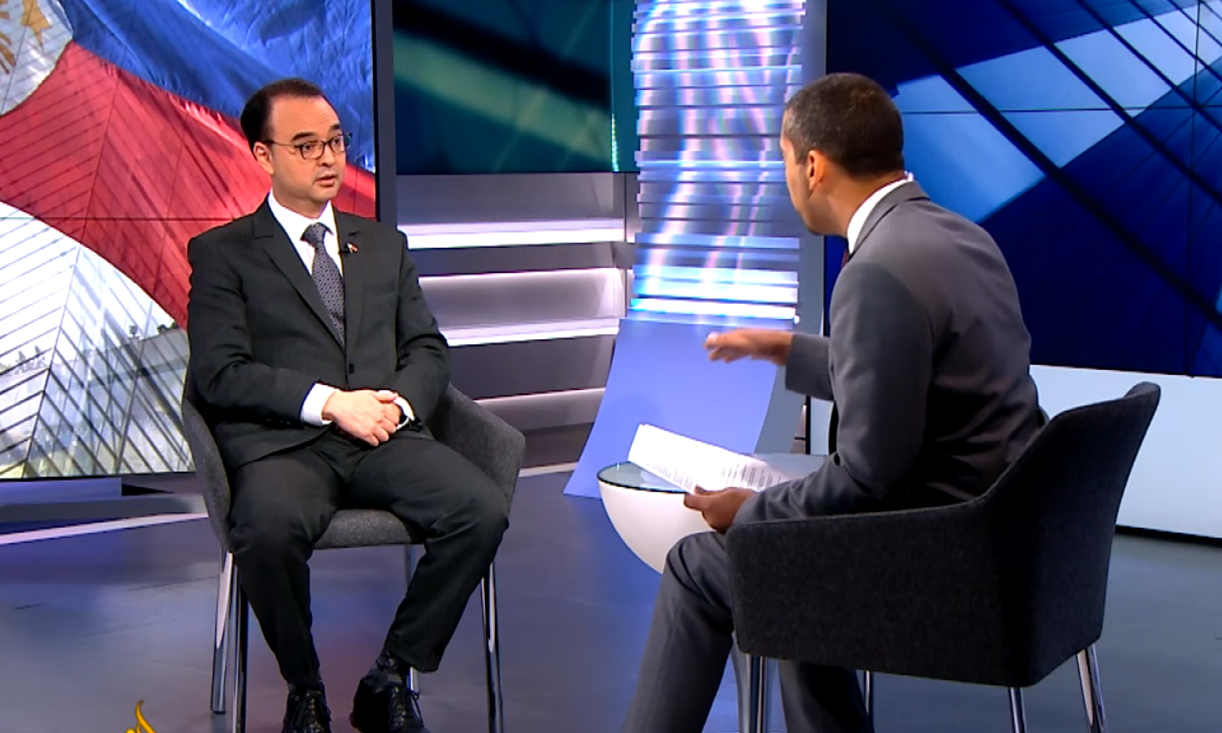 Secretary of Foreign Affairs Alan Peter Cayetano appeared on Mehdi Hasan's current affairs program on Al Jazeera Friday to talk about the Duterte administration's bloody drug campaign.
Asked about the rising death tolls in the government's war on drugs — which some human rights groups estimate to go as high as 13,000 — Cayetano responded by citing a recent Pew Research Center poll which says that 78 percent of Filipinos approve of the government's handling of the drug issue.
"The perception that was thrown to the international community was led by certain human rights groups associated with our opposition, and associated with some people in the Catholic Church. But they didn't give the international community the correct facts." he said.
When Hasan noticed the dodge, the UpFront host brought up a statement made by Patrick Murphy, the U.S. deputy assistant secretary of state for Southeast Asia, which says that "the growing number of extrajudicial killings is troubling."
"The U.S. State Department, the Catholic Church, they're all just biased against the Philippine [government]?" he asked.
"Yes, because the point is Filipinos will not support human rights violations. We are very spiritual people. Whether Muslim or Christian, Filipinos believe in the dignity of life," Cayetano answered, adding that there were about 11,00 cases of extrajudicial killings during the Aquino administration.
"You are the foreign minister of this government and your position is that a few years ago under the last government there were 11,000 deaths. But this year you don't believe any numbers about deaths. That's very convenient, isn't it?" Hasan countered. "Everyone died in the last government. Nobody died under your government. Even the human rights group, the U.S. State Department, the Catholic Church have all attacked you for your record."
When asked if every single one of those killed in police operations were, indeed, drug dealers, Cayetano said: "Yes," to which Hasan responded: "How do we know that? You didn't try them. You didn't prosecute them. You didn't charge them. You shot them on sight. That's not a democratic way of solving crime, is it?"
"You're absolutely saying it as if you're not on the ground. Come and look. So, if I pull a gun on you here right now, and you shoot me, it's your fault or it's my fault?" Cayetano said.
Hasan retorted, "How do we know that? None of them were tried. Normally, you arrest someone and put them on trial. The Philippines are just killing people."
In the latter part of the interview, Hasan also asked Cayetano if it's difficult for him to act as the country's foreign minister given that President Duterte has said many "outrageous and offensive things" in the past, including his remarks about the Pope, former U.S. President Barack Obama and former U.S. Ambassador to the Philippines Philip Goldberg.
"Not at all. Filipinos are prouder now than ever because all the things you said are being said by Western media, which the President didn't say," Cayetano said.
And when asked about the rape joke he made about an Australian missionary, Cayetano defended his running-mate in the 2016 elections, saying that he was just recalling the incident.
"He never jokes about rape," Cayetano said. "He's very mad about rape. And Davao is one of the safest places."
Cayetano has recently been criticized by Human Rights Watch for dismissing evidence of abuses linked to the war on drugs as nothing more than "misinformation, fake news and politicization of human rights," calling him the country's "denier-in-chief."
Watch the full interview below: