'Lapid Fire' returning this week; journalist Roy Mabasa to host his late brother's program
In a post on Facebook Sunday, Roy Mabasa announced the revival of the program which he will now be hosting.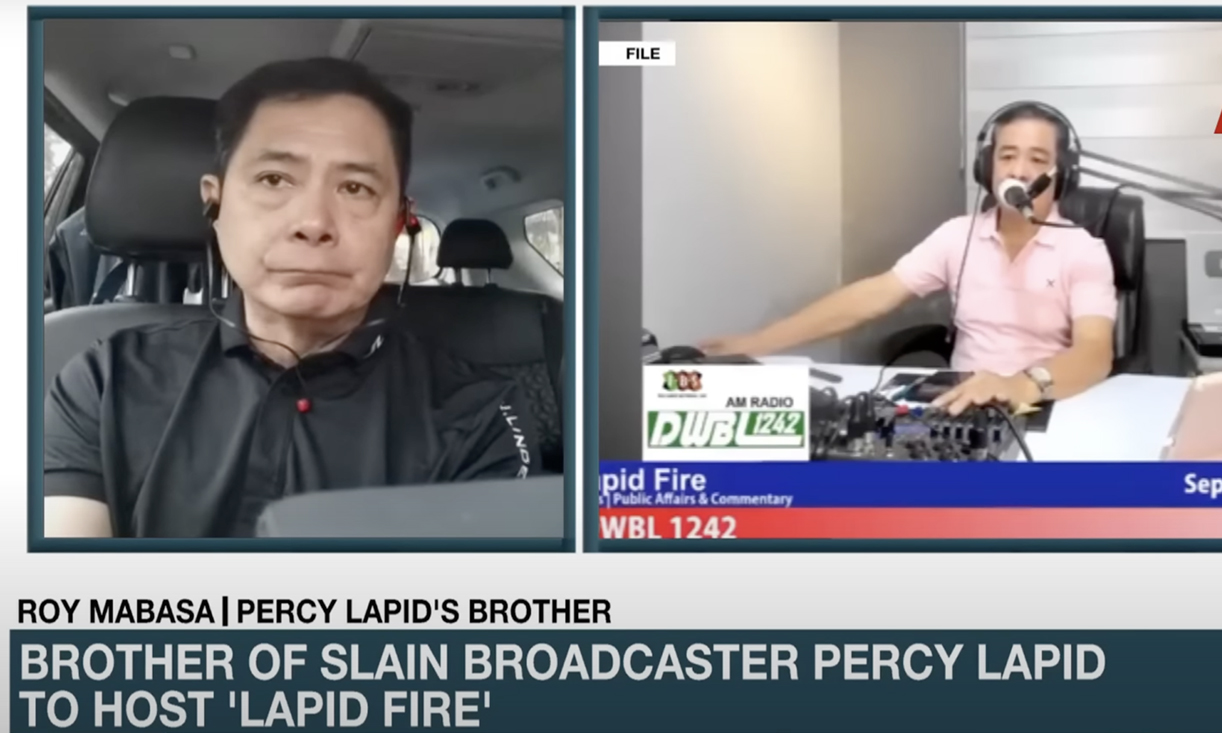 Lapid Fire, the popular commentary program hosted by the late Percy Lapid, is set to return to the airwaves this week.
In a post on Facebook Sunday, Lapid's brother, journalist Roy Mabasa, announced the revival of the program which he will now be hosting.
"We are pleased to announce the return of the Lapid Fire program, hosted by Percy Lapid's brother and veteran journalist Roy Mabasa, this coming Wednesday, Dec. 7, 2022. It will be aired Monday to Friday from 10pm to 11pm via DWBL 1242 khz and from 10pm to 11:30pm on Facebook. Join us in continuing Ka Percy's legacy of fearless truth telling and tune in on Wednesday, Dec. 7!" he posted.
Lapid Fire began airing in 2019 as the comeback vehicle of Lapid, who was already an established radio broadcaster at the time. It started gaining serious traction in 2020 during the global lockdown when he would offer hard-hitting commentaries on national and political issues, including the questionable COVID policies of the then-Duterte administration, as well as the administration of former Manila Mayor Isko Moreno.
Most notably, he was one of the few broadcasters who raised concerns over the health and environmental impacts of the Manila Bay dolomite beach.
Lapid, a human rights activist, also went after the drug war of the previous administration, often offering his scathing and honest remarks against its approach. This would continue up until the 2022 presidential campaign where he would often advise his listeners to vote for candidates with untainted reputations.
"Ang dami kong bagay na dapat i-consider. Unang-una 'yung security natin, but you know ang pinapakinggan ko rito 'yung tawag nung kanyang mga listeners," Mabasa said last week during an interview with ANC, adding that he will try to "exercise the tradition" of his late brother, delivering his brand of fearless journalism.
"Ang kabilin-bilinan ni Ka Percy noon sa kanyang programa, ang pagsasabi ng katotohanan ay hindi nga naman katapangan pero ito ay obligasyon para sa ating lahat. Ayon ang tinutuloy natin," Mabasa added.
Watch his interview below: