GMA-7's Connie Sison praised for superb coverage of the Manila bus ban
No other reporter was able to perform better that day than Sison, who was in action for the tension-filled coverage.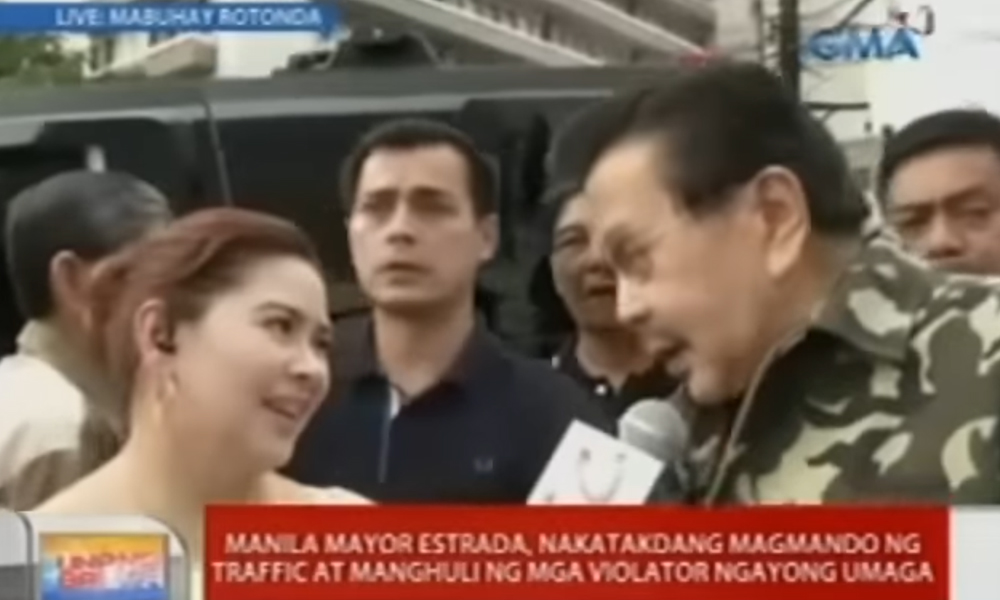 A number of TV, radio and print reporters lined up at the Mabuhay Rotonda Thursday morning to cover the expected tension, as the local government of Manila strictly observed the implementation of the city bus ban.
For the local TV networks, TV5 had Edison Reyes and Trish Roque. ABS-CBN had Zyann Ambrosio, Ron Gagalac and Francis Faulve, who sort of served as the lead reporter for Umagang Kay Ganda's coverage. But no other reporter was able to perform better that day than Unang Hirit's Connie Sison, who was in action for the tension-filled coverage.
What Sison accomplished that day that other reporters couldn't was that she was able to ask relevant and direct questions and most importantly, she was prepared to follow-up questions when necessary.
From Sison's interview, we first learned that wearing a camouflage jacket for former President now Manila Mayor Erap Estrada was symbolic for him — that he's really serious about enforcing the city bus ban. We also learned that he cared less about what Atty. Ferdinand Topacio has to say about the city resolution with a newsy soundbite from Erap saying, "Sira ulo niya eh! May ebidensya ba siya? Hindi kami corrupt na kamukha ng amo niya." From that moment, we got a preview of what's to come minutes later when the two faced each other.
At one point during the interview, Erap went on to say, "Naku ang dami mong tinatanong," to which Sison responded by saying, "Trabaho lang po." That was great!
As many of our regular readers know, we do give credit where credit is due. So let's give a nod to Sison for her reporting/interviewing style and her quick-witted ad-libs. That's the Connie Sison we've been longing to see — the "go getter" reporter, the one we grew up watching on TV Patrol, and the one who can be good at covering breaking news and events.
We're sure that there will be more opportunities where we get to see Connie the reporter/interviewer and not just Connie, the host of a medical program. Don't get us wrong, we do think she's doing a really great job on Pinoy MD, but we do believe she can handle her own chat-show too.
Interestingly, if you were able to watch both Unang Hirit and Umagang Kay Ganda's coverage, you may have noticed that the UKG team cuts out their audio feed whenever Sison's on the air. The scenario in the ABS-CBN control room, according to our tipster who spoke to us on condition of anonymity, was very much like what happened in Mabuhay Rotonda — tension-filled.
To the UKG team: Take this as a motivation to retool the ABS-CBN morning show. In the current anchor lineup of the show, we don't see anyone who can compete with the solid trifecta of Arnold Clavio, Rhea Santos and Connie Sison.
Check out some of the well-deserved praises for Connie from netizens and fellow newsers: