MNP Q&A: Cathy Yang, Anchor and Managing Editor for ANC
For our 6th anniversary, we're profiling the biggest name in business news.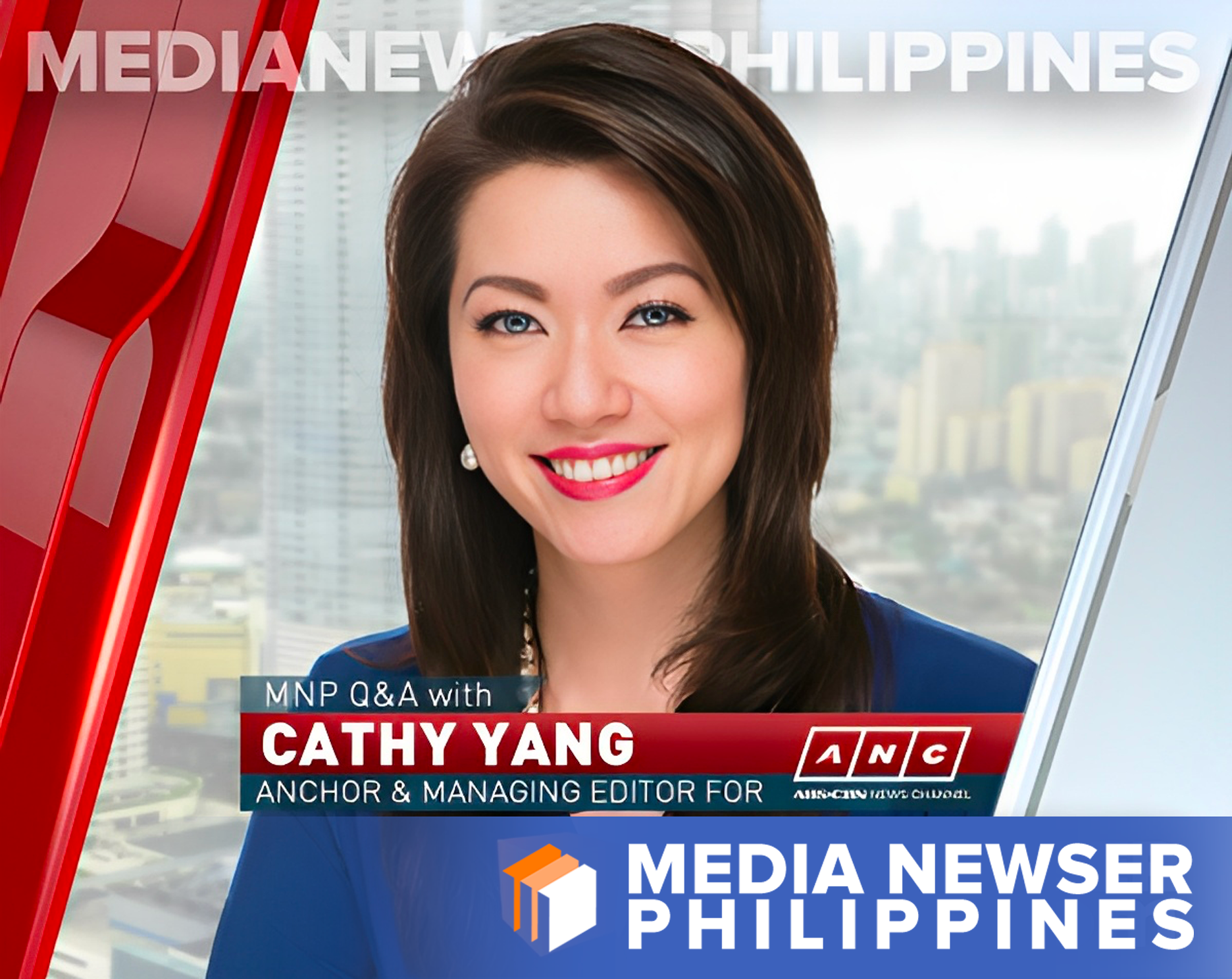 For much of the last two decades, the Asian region has been considered the global economic powerhouse, with growth rates exceeding those in other regions. It would subsequently be known as the powerful center of the global economy, with China, India, and several ASEAN countries leading the way.
In recent years, the Philippines has also shown more rapid growth and has undergone a transition from being the "sick man of Asia" into a tiger economy. This helped stir up the interest and awareness of many Filipinos in business news.
In this realm, one woman, who just made a Philippine TV comeback last year, has made a name for herself by chasing and breaking business news in Asia and around the globe.
Cathy Yang, the three-time recipient of the Best News Presenter award at the Asian TV Awards, has been covering business since the '90s, starting as a researcher for ABS-CBN News.
She would eventually go on to become a business news anchor and reporter, seen regularly on The World Tonight and on ANC's Stock Market Live.
In 2000, Yang would make the big jump to Tokyo, joining Bloomberg TV Asia-Pacific as a news anchor. She would eventually move to Hong Kong when the network expanded its news operations, making her trip to Manila more efficient, where she would be making back and forth trips for the next fifteen years, juggling a full-time job with a family life.
"I'd been a weekend parent commuter, an 'astronaut mom' if you will, flying the Tokyo-Manila-Tokyo leg in my first four years, and then Hong Kong-Manila-Hong Kong in the next 11," she shares. "I would hop on the plane Friday night, enjoy the weekend with the family for the next 48 hours, then fly out Sunday night, in time for the next morning's first broadcast for the work week."
Making her rounds in the international media networks, Yang would later join Reuters TV, where she would be trained to do a combination of live reports and field reporting; and CCTV News, where she would cover the historic Umbrella Revolution, among many others.
Despite her complex schedule abroad, Yang would take on the challenge of serving as president of One La Salle Hong Kong in 2013, where she would champion advocacies that benefit the Filipino community.
"Given my crazy weekend flight schedules, I didn't think I would have the time nor energy to help," she says. "But when the opportunity came, I embraced it both with fear and faith — that this is what God had wanted me to do first before I finally headed home."
She would remain in that post for two years, and under her watch, the chapter would receive two of the highest honors at the 10th DLSAA One La Salle World Congress in 2015.
Just last year, Yang decided to return to Manila for good, joining her husband, Gilbert, an accomplished dermatologist; and their two lovely daughters, Angel, now 19, and Christine, now 10.
"They were overjoyed the second I told them," she says of her return. "In my kids, I have reaffirmed the good-heartedness of Gilbert. Both girls have grown up to be respectful, well-intentioned, and compassionate of others."
Yang would also announce her Philippine TV comeback in August, rejoining her alma mater, ABS-CBN News, as anchor and managing editor for the country's premier news channel, ANC.
"The reinforcement of business coverage in both ANC and ABS-CBN now offers the global audience more depth, scope, and perspective on issues facing the Philippines," she says. "It was time to come back home."
Currently, Yang is seen daily on Market Edge with Cathy Yang, airing at 9AM and 3PM, and on Business Nightly at 10PM. She has also started hosting The Boss since February, and just last month she headlined the first ANC Asian Innovation and Entrepreneurship Forum featuring business magnate Sir Richard Branson.
For our 6th anniversary, we're profiling international journalist Cathy Yang. Here, she talks about her life as an "astronaut mom," her storied career as a journalist, and her experience working in three international news agencies. Be sure to join the conversation below or on our Facebook page. You can also tweet us @medianewserph.
Name: Cathy Yang
Birthdate: February 1, 1971
Occupation: Journalist
Education: Journalism Fellow, University of Oxford and Cardiff University / De La Salle University AB-CAM / Colegio San Agustin, Makati (High School and Elementary)
Guiding Principle: Live, laugh, love (then laugh some more)
Media Idol: Katie Couric
News Sources: The Wall Street Journal, The Economist, Bloomberg, Reuters, Associated Press, local broadsheets
Twitter Handle: @CathyYang
Instagram Handle: cathyyapyang
Facebook Page: Cathy Yang
Share with our readers your story. Who is Cathy Yang on- and off-camera?
Cathy on- and off-air is a ball of energy. Contrary to what most think, she does go to sleep. It's just that she does when everyone else has dozed off, and wakes up even before most of those have. Off-camera, she is naturally reserved, soft-spoken (you will sometimes strain to hear what she's saying), but lets out a big laugh when a really good joke comes up. When off from work, she hardly wears any makeup that many have said she looks like just big sis to her two daughters.
It's been almost a year since you made your return to the Philippine airwaves. How has your transition been from international to local broadcast news?
Well, still in transition I'd say after ten months back with Kapamilya Network since last August. Thankfully hit the ground running with three live business shows and one weekly business talk show, The Boss. Then there was APEC in November to prepare for, then the national elections in May, where I took the lead in covering the Overseas Absentee Voting, and in between those, inviting Sir Richard Branson to fly to Manila from his Caribbean home to talk entrepreneurship and innovation. It's been good. There's been this enormous opportunity to steer and shape, collaborate and collectively change, and try out new things like inviting global rock stars in business to our country.
I am likewise enjoying speaking Tagalog more often now as work colleagues are fellow Pinoys rather than foreigners. After many years communicating in English all the time on-air and off-air, English now has become more of the language to deliver content on ANC. Every now and then, I get to do versions in Tagalog for TV Patrol, and everyone who hadn't caught me in my earlier years doing TVP and Hoy Gising! back in the nineties is just so amazed, they exclaim, "Ang galing mo palang mag-Tagalog!"
What made you decide to finally come back after fifteen long years?
It's about time. In all those fifteen years, I'd been a weekend parent commuter, an 'astronaut mom' if you will, (which in itself had delightful perks to remember by), flying the Tokyo-Manila-Tokyo leg in my first four years, and then Hong Kong-Manila-Hong Kong in the next 11. I would hop on the plane Friday night, enjoy the weekend with the family for the next 48 hours, then fly out Sunday night, in time for the next morning's first broadcast for the work week.
At the time I was in the final stretch of those fifteen years, the ABS-CBN News Channel had started broadening its focus, expanding its audience to include the Asia-Pacific region, and with that came the need to strengthen business programming and transform ANC into the region's gateway to the Philippines.
ANC has always been strong on politics and general news, but politics and the economy are just as intertwined. The reinforcement of business coverage in both ANC and ABS-CBN now offers the global audience more depth, scope and perspective on issues facing the Philippines. It was time to come back home.
How are you liking your new work so far?
I like it. I work with a young and energetic team eager to learn and share what they know, as well as try new ways of story-telling, working really hard to earn their on-air sign-offs on every VO or packaged report. I am grateful for their open-mindedness, their hard work, their enthusiasm.
You are not just an anchor but you are also serving as managing editor for ANC. What exactly does that entail?
It basically means hunkering down with the team, helping identify the biggest business news stories of tomorrow, guiding correspondents and producers in shaping the angling of these stories, and delivering them in the best means possible to the viewer, complete with compelling visuals, soundbites, easy-to-understand writing and delivery on air. It's sort of like farm-to-table, farm-to-fork kind of a process, which I truly enjoy as it completes me as a journalist.
So, what's a typical day like for you?
Sunday night, my team and I take to our "virtual newsroom," the Business Group on Viber, and plot out the biggest stories for tomorrow and the week ahead. Here is where we plan the logistics, the execution, and of course, share stuff just for fun. Stickies and clicked hearts are all the rage. We get things done even before I touch down the newsroom for Market Edge at 9AM Manila time. Market Edge comes back on again at 3PM where I close the markets for the day. In between, I do field work for The Boss. The final live output for the day is at 10PM on Business Nightly, with a cameo appearance in The World Tonight at about 9:30PM to tease what's to come at 10.
How would you compare the industry back when you were starting as a young reporter in the '90s to today?
It was the age of radio and TV back in the '90s, a time when everyone just tuned in, and the anchor or reporter delivering the news were the chief carriers and communicators of information. Any feedback to the newscasts then were done via phone calls or through snail mail. And they did send a lot of letters through the post then, and they arrive in the newsroom stuffed in rice sacks filled with letter envelopes waiting to be opened.
Fast forward to today's social media era, and you have a plethora of voices — from netizens to bloggers — reacting almost instantaneously, expressing their views, reacting to what they hear on air. And it's good. Diversity is good. The challenge now is for the one consuming the news to know who to trust in making informed decisions after all the information overload filters through.
Tell us about your daily programs, Market Edge and Business Nightly. What do you like the most about anchoring business newscasts?
There's just some kind of energy that connects me and that camera with the tally lights that go blinking just before going to air. And it's never gone away even after two decades of just staring down the barrel of the gun, so to speak. There's just something so important for me to deliver, and there's that unseen audience behind TV screens or online just waiting to hear it.
What about The Boss? What do you want to accomplish with that show?
The Boss is where I aim to bring humanity to men and women — in suits, jeans or slacks — whatever their profession or vocation, be they family members of taipans, self-made billionaires, or millennials nurturing the next great idea. Because they too have struggled or are struggling in their goals to get to the top, and in there one can find inspiration, or are fellow parents just wanting the best for their children as they try to keep their careers going, or are sons and daughters of parents who worked just as hard to make sure they lived well. And that just like us, they too have their own passions outside work worth sharing and getting awed with.
Tell us about your experience moderating the Leadership Forum with Sir Richard Branson. How were you able to book him? Also, what did you learn from moderating such a big forum?
My personal network brought me to Sir Richard. Then it was back-and-forth for two months since the start of this year, cutting across different time zones from Manila to London, New York to Necker Island in the Caribbean and back.
As he is staunchly against the death penalty, I had kept myself open all throughout to the possibility that he could very well bring it up, and while I had no intentions of detracting from the key topics of the forum, I was well aware that this is one pressing issue worth breaking news on. So when he did bring it up after saying much about his advocacies, I just let him speak, and as he was speaking so eloquently on it, I had decided the last minute, to ask a quick follow-up, on the fly, on what then is the best recourse to those who commit heinous crimes?  "Lock them up for life," he answers succinctly. His story lands on that night's headlines and across major broadsheets online and the next day.

It was how he listened intently to Mito Fabie, a young, self-confessed Branson fan who performed an impromptu rap in his honor during the Q&A, that gave it away. A side-glance at him revealed a man genuinely interested in people, in what they have to say, either in words or in song. This is how he has overcome his inherent shyness: by just being constantly curious, learning from others, connecting with them in the hope that someday, all those he comes in contact with would want to do something together with him, not only for profit, but for good.  As I saw him off to his departure after a 15-hour layover in Manila, what he left me with is his delightful personable self and authenticity, both in themselves humbling as they are empowering.
You were the only Filipino journalist chosen as one of the moderators during last year's APEC CEO Summit. Tell us about that particular experience.
It was an honor and privilege. I was particularly pleased to have been assigned to moderate the forum on Human Capital Development, with health and education as key pillars, central to APEC 2015's theme of promoting inclusive growth. All the studying I did and learning from my speakers further affirmed for me my commitment to one my own chosen advocacies: education for the underprivileged.

Let's look back at your international broadcasting career. First, with your experience working on and for Bloomberg TV. Could you share with us some of your most memorable coverages during your almost ten-year stint there?
It was past one in the morning of September 12, 2001, Wednesday in Tokyo, when the shrill of my keitai, i.e. mobile phone roused me from my slumber. It was my producer asking me to come to the office now, earlier than my usual 4AM shift, because there's been a situation in New York and we had to make sure we helped our colleagues with the live broadcasts from where we were. It was only when I got to the newsroom that I had seen the gravity of the situation: 9/11 unfolded before my eyes, as the terror attacks brought down the twin towers of the World Trade Center, costing thousands of lives and huge economic losses. We tore up whatever planned rundown we had and went live from Tokyo doing crossovers with our New York anchor for an extended number of hours that morning. I fought to keep calm and have a clear mind all throughout. It was difficult. There was just so much to take in as the casualty count piled in. As for the 2008 global financial crisis, reporting on the extent of the resulting job losses was where the greatest distress had come. These two historic events have influenced my growth and depth as a financial journalist overseas.
What about your run as anchor-reporter for Reuters TV, how would you sum up your experience there?
My Bloomberg stint gave me the opportunity to hone my skills as a studio anchor, and be an expert interviewer geared towards breaking market-moving news. Reuters TV, on the other hand, gave me the opportunity to practice my journalism from a news agency's perspective, providing customized content for the world's largest broadcast media clients. So I would do a combination of conducting live reports on weekdays, and go out and do some field-reporting, telling stories through pictures in packaged format.
Lastly, you spent two years with CCTV News and during your time there, you had the opportunity to cover the Umbrella Revolution, among many others. Walk us through that particular coverage.
It was a moment when I challenged myself to extend the limits of what is possible in covering a sensitive political uprising in Hong Kong as Occupy Central for the global English channel of China's state TV, CCTV9. When visitor arrivals from Mainland China whittled and retail sales in Hong Kong shrunk as the protests dragged on, a purely political issue became a business story. And I reported on it just like it is. As the protests lasted a good three months, it meant having to take alternate routes to work which required a lot more walking, as major roads were blocked. So I would walk to work, then walk to the scene of the story, walk back to do the video edit, then walk home. Ergo, I lost weight unnecessarily during those months.
You basically made the rounds on these international networks for the past fifteen years. Share with our readers how you were able to carve out such an illustrious/successful broadcasting career abroad.
I just worked, and worked hard, and well. It was always a given. I've flown too far not to, anyway. I've gone overseas, gone away from family five days a week, to just be the best I can be. Fortunately, it paid off. Turns out I wouldn't just clinch one, but three trophies from the Asian TV Awards in 2001, 2002 and 2003 for Best News Presenter. Later on, I was to know that it's the first time anyone's secured a three-in-a-row for that category.
What were some of the professional challenges that you encountered back then, and how did you deal with them?
The biggest challenge in Tokyo is the language barrier. I did learn Nihongo before I set foot there, and pursued a more advanced course later on. And while I spoke English with all my colleagues at work, it was not the same for when I stepped out of the office and engaged the city's dwellers. I had to grope for Nihongo words again as I tried to communicate in their local language. In a way, speaking English at work became a crutch for furthering my Nihongo.
In Hong Kong, competition was a tad tougher as most of the big international news organizations had their Asian homebase in the city. But by then, I had already been prepared by my four-year stint in Tokyo. The shopping in Hong Kong though was far too good. The challenge became a personal mission to identify what one truly needed, and what one just merely wanted.
Tell us about your stint as president of the DLSAA One La Salle Hong Kong Chapter. How important was it for you to give back to the Filipino community?
Very important, especially after having been based in a city with one of the biggest contingents of overseas Filipino workers in the world. Given my crazy weekend flight schedules, I didn't think I would have the time nor energy to help, but when the opportunity came, I embraced it both with fear and faith — that this is what God had wanted me to do first before I finally headed home.
The One La Salle Hong Kong (1LSHK) Chapter I helped revive and head up as President for two years from 2013-2015 championed three advocacies: support underprivileged Filipinos including deaf learners through high school education, provide financial support for distressed migrant workers in Hong Kong, and rebuild calamity-stricken provinces in the Philippines.
Crazy good stuff happened in two years. The goals were simple: have fun, help others. The events just swished past like a gust of wind, uncovering paths we never knew existed but bravely (or blindly) treaded on, casting ourselves away from our personal comfort zones and in turn enriching others much as others have enriched us. The leadership exercise taught me what can only be learned by doing. Let's cross the bridge when we get there it was not, but more like trust I shall see a bridge when I get there.
Under my term, the Chapter has seen four of its eight scholars graduate from high school last March 2015 at the Adult Night High School of La Salle Green Hills. It has also seen through the full-year financial support for distressed Filipino domestic helper, Rowena Uychiat, and countless other migrant workers at the Bethune House Migrant Women's Refuge. The Chapter's pioneering Emergency and Medical Fund has helped provide for those in need at moment's notice at the shelter, from medico-legal tests to transport fees to and from the court houses.
The Chapter has also helped rebuild a community in Northern Cebu, Barangay Dapdap in San Remigio, ravaged by Super Typhoon Haiyan in November 2013. It had also funded the immediate distribution of 2,500 relief bags to affected areas in Cebu and Leyte. The total amount of money the Chapter raised in Hong Kong for Haiyan amounted to over HK$100,000. The donation poured from Chapter members, friends and partners such as One La Salle Cebu, M.A.R.C.H. for Christ, Section Juan, as well as the wider community in Hong Kong. In December 2014, the Chapter had also raised money for the relief and rebuild of several provinces in northern Samar and Bohol leveled by Typhoon Hagupit.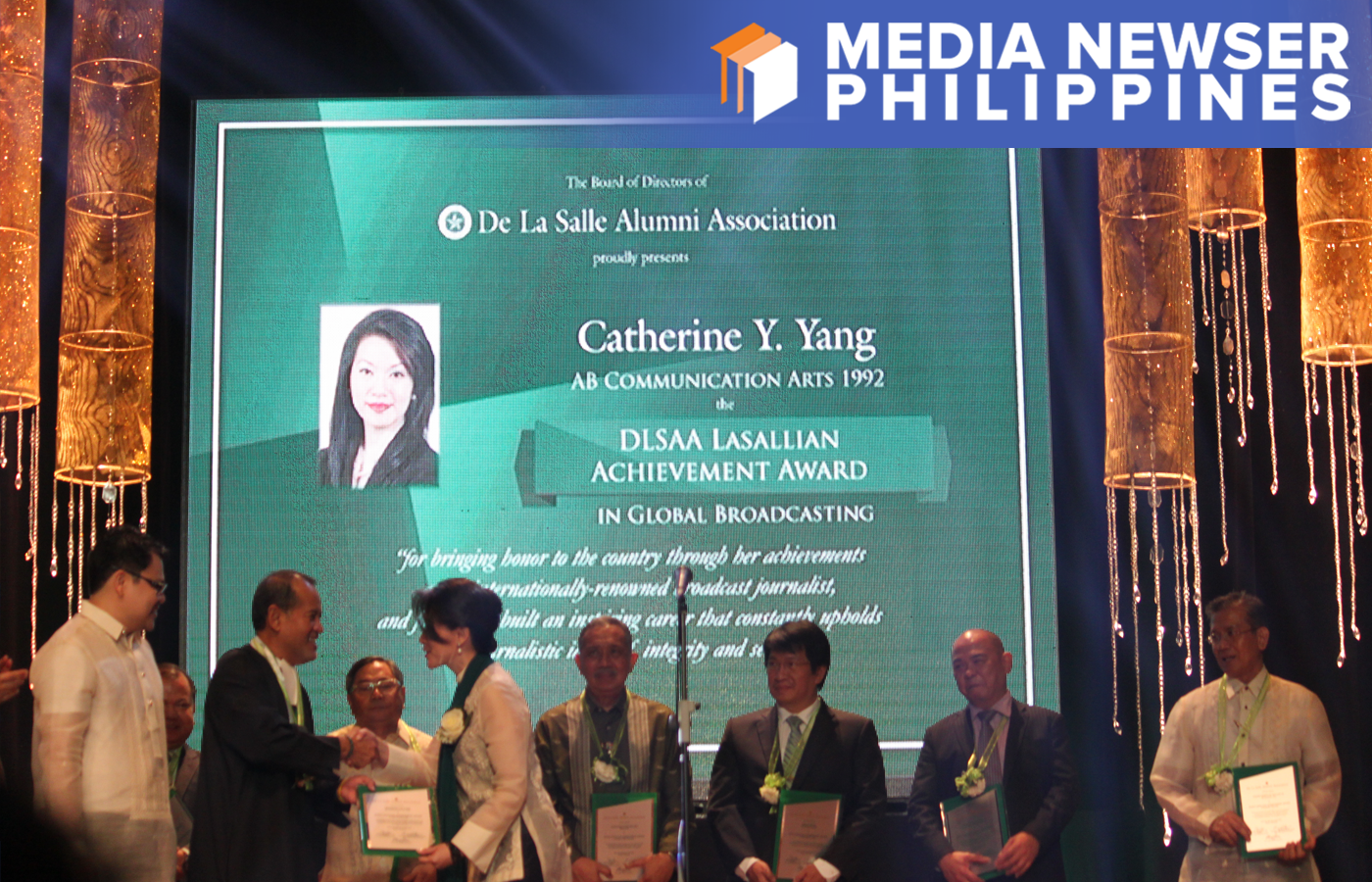 Barely two years since its revival, the Chapter was handed the two highest honors at the 10th DLSAA One La Salle World congress held in Clark, Pampanga on May 22-24, 2015. These twin awards came just one month after I was given recognition for "Excellence in Global Broadcasting" at the biennial One La Salle Night of Excellence Awards at the De La Salle University on April 24th, 2015.
Today, the Chapter continues to serve others and fellow Lasallians living and working in Hong Kong. We started on solid footing as acquaintances and then friends, evolving into purposeful beings, agents of social change, on to which we now continue our collective faith journey.
You have been recognized countless times for your contributions to the journalistic community — from winning in the Best News Presenter category at the Asian TV Awards for three years in a row to receiving a Fleet Street award from the British Chevening programme, and a DLSAA Lasallian Achievement Award in the Field of Global Media — how important are these for you?
I am very grateful for all. The Fleet Street award paved the way for my Cardiff University international journalism fellowship where I learned how to do camerawork with that 12-kilogram BetaCam video camera and lug along that stone-heavy tripod. So did the Reuters Foundation scholarship into Oxford University, where I turned in a 300 plus paged thesis on the viability of mergers between traditional media and the Internet. I received citation for my work.
The DLSAA Lasallian Achievement Award in the field of Global Media, on the other hand, recognized me "for bringing honor to the country through her achievements as an internationally-renowned broadcast journalist, and for having built an inspiring career that constantly upholds the journalistic ideals of integrity and service."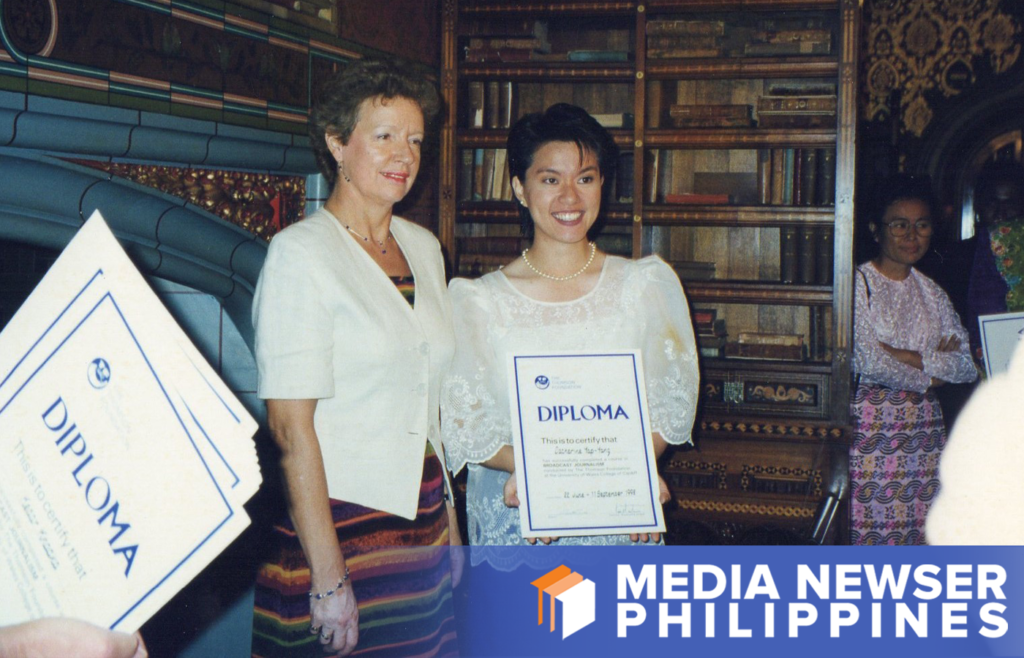 You are very active on social media. You have Instagram, Facebook and Twitter accounts. Do you think journalists in this day and age should have digital fluency?
It is a must. One must stay connected and engaged, or lose relevance in today's social media age. This is probably the most exciting time to be a journalist, with so many choices for just about anyone to publish his or her views. The challenge as a journalist is to be able to rise above all the chatter and become the go-to source for verified news and information, and source for sharing or further online engagement.
What is that one thing that our readers and your ANC viewers should know about you?
I take a quirky interest in viticulture. I am a wine geek. Somehow makes me think whether I would have been or could be a farmer, if ever I threw in the towel on being a journo. But then again, I could be Bordeaux correspondent and resolve the impasse. Last July 2015, I had successfully secured my WSET Level 2 certificate in wines and spirits, with merit, in Hong Kong. My journey with the vines continues here in Manila.
You married your husband, Gilbert, during your early 20s. In an interview back then you said that his social responsibility (teaching at La Salle Green Hills Night School catering to older people who want to attain a high school diploma) was a great story. What was the dynamic between the two of you back then like since both of you were doing acts for the benefit of other people or the society at large — with you being a journalist?
The acts of kindness for the underprivileged had first come from Gilbert. I'd like to think it just rubbed off on me. He knew as early as 18 that he wanted to help the underprivileged, and that he wanted to do so through education. So while he was reviewing for his medical board exams, he was teaching as well his night school students and asking them to pray for his successful passing. He was six years into his advocacy when I first met him, my first soundbite literally, as I'd been assigned to go to La Salle Green Hills one evening to do a feature on the Adult Night High School's graduating class for an end-of-the-school-year story for The World Tonight. I was just on my third week at ABS-CBN, and as news researcher. He was an intern waiting to pass the medical board. We had become inseparable since, and got married three years later. We just celebrated our 21st wedding anniversary last April 23rd.
Gilbert is an accomplished author of many best-selling science textbooks, used by a majority of Philippine schools, among them, the You and the Natural World series on Biology, which you may have used in your high school sophomore year. He co-wrote it when he was 18. He is a faculty member of UERM-MMC, a dermatologist specializing in diseases of the skin, hair and nails, and sub-specializing in infectious diseases including HIV. He loves musicals, as well as acting in them. He in fact played the role of the priest in Mamma Mia!'s Masterclasses held at Prince Edward Theatre in London. He has also trained up for stand-up comedy in Edinburgh, Scotland, doing up an act there during the Fringe Festival. He has been teaching in the ANHS as an advocacy for nearly 30 years now.
Tell us about your kids. How do they feel now that you're staying here in Manila for good?
They were overjoyed the second I told them. In my kids I have reaffirmed the good-heartedness of Gilbert. Both girls have grown up to be respectful, well-intentioned and compassionate of others.
Any hints of future journalist in your family?
Yes, indeed. Angel at age 12 was published in the Junior Inquirer section for her poem, "Life and Death in Gaza". Five years later, she started contributing for 2bULifestyle of the Philippine Daily Inquirer. During her high school graduation, she was awarded the rare recognition of "Excellence in Writing". Her younger sister Christine, meanwhile, is fond of writing stories and for allpoetry.com as well.
What are some of the most valuable lessons you've learned from Gilbert and your kids all these years that you would like to share to our readers?
This applies to not just those in the news business, but to all: be steadfast in your faith. Pray. Trust. Let Go. How we had been able to keep together even as we'd been apart continues to be the biggest mystery — and blessing — as yet. Gilbert and I had each other as prayer partners, even whilst apart. The kids too lead prayerful lives, and know the value of time well spent, with my 48-hour turnarounds on weekends.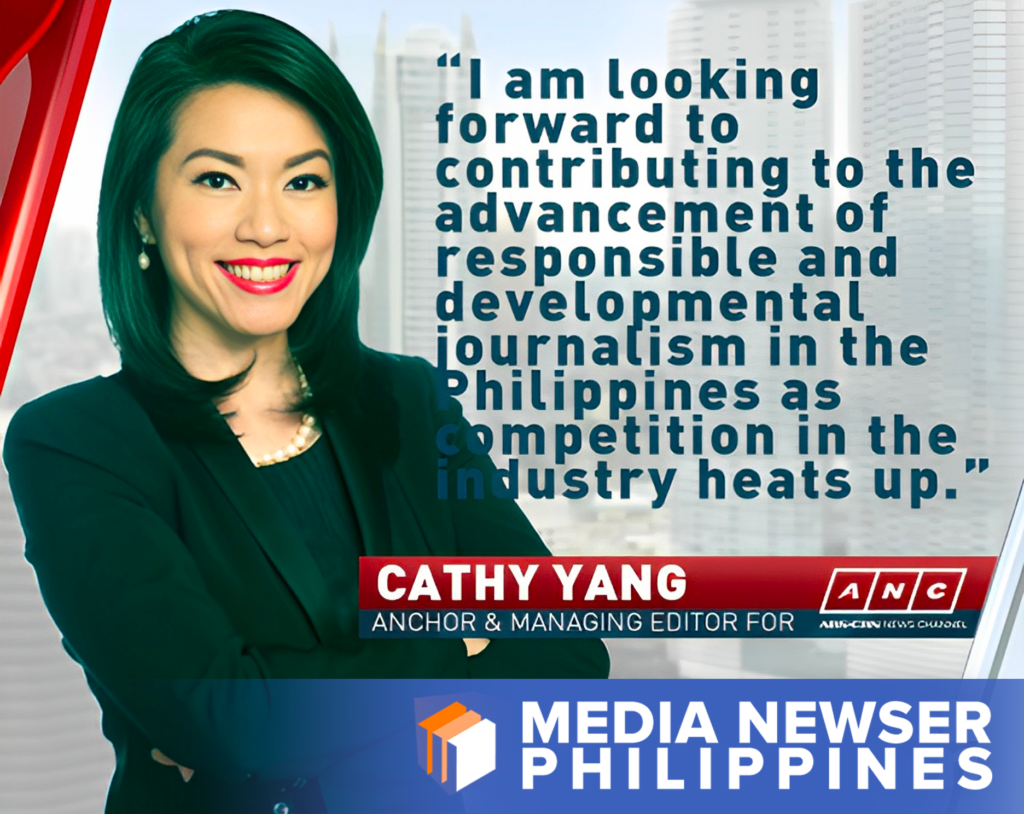 You have accomplished and achieved a lot of great things in your professional life. At this point you have nothing to prove as a journalist. Before we end this Q&A, we would like to know what's next for Cathy Yang? What are you most looking forward to do in the coming years?
I am looking forward to contributing to the advancement of responsible and developmental journalism in the Philippines as competition in the industry heats up. I want to be able to track our nation's path to inclusive growth in narratives people can relate with. Social media is where the fiercest battles are fought. Radio and TV are complements to the online world. The journalist, program or news team which gets to push that breaking news first onto the digital space will define who will command the attention and respect of the discriminating netizens out there. I want to be a key part of all that action.
What would be your best advice to those who might want to join the television news industry?
Well, slap on the sunblock and scour the field for that great untold story. It is only in starting from the trenches you gain respect. So work it, and earn it. Stay hungry learning anything new. And when you've made it high enough in your career to be able to see the amazing horizon, don't just stand there. Take a selfie and share it! Share your time and talent, that is. For you were once there needing to learn the most when you were just starting.